I have a pretty large collection of photos and videos on my USB hard drive and like to watch these with my family on our Roku TV. Yesterday however I ran into a few problems with this.
I decided to go online and do some research to solve the problem.
Fortunately I was able to resolve the issue. As I was reading through various articles, I came across related problems and solutions. In this post I have summarized all my research. The good news is that you don't need to take anything apart!
The Basic Checks
Let's first look at some of the solutions
Re-connect your external drive
Restart your Roku TV
Check the USB ports for dust and dirt and if you see any blow it out
If none of them worked for you, keep reading for other solutions to the problem
TV USB Port Not Providing Enough Power
TV USB ports only provide a limited amount of current (max 1100 milliAmp). This is enough for most externally connected USB devices like thumb drives. However this may not be enough to power larger and older USB hard drives.
In many cases, USB devices have their own external power adapter. If the device has no external power adapter and requires more than the supplied power, the device won't be recognized.
⚠️ In this case, your TV might display a message that your USB device requires more power, or if the USB drive has an indicator LED, it will start blinking to indicate an insufficient power supply.
The solution for this situation is to connect the power adapter of your USB drive to the power outlet if it comes with one. If it doesn't have a power adapter, you might want to use a powered USB hub. The hub powers the connected USB device, so the device doesn't have to rely on the TV's power.
Here is an example of one such Hub. It is able to provide up to 4 Amps of current which is more than adequate for a USB hard drive.
The USB Drive Filesystem Is Not Supported
Most modern USB drives are formatted with an exFAT filesystem. This is not supported by Roku TV. Check the filesystem on the external USB drive. To do this insert your USB device into your PC or laptop. Once the drive's icon appears, right-click on the icon and click Properties.
The following file systems are supported by Roku TV: FAT16, FAT32, NTFS, EXT2, EXT3, and HFS+ file systems. If your USB drive has a different file system than the supported ones, you might want to reformat your USB device.
Drive Size Limitation
Some Roku TV's are unable to read hard drives that have more than 2 TB in storage. In this case you will have to transfer the contents to a smaller drive.
USB Version
Some models of Roku TVs support only USB 2.0. This is because no other subsystems on the TV require faster speeds, and hence there is no need for USB 3.0+ support. Also, USB 2.0 requires only 500 mA power, so most TVs support 2.0 spec only.
If the device you try to connect is a USB 3.0 type, it can work in USB 2.0 mode. However, some USB 3.0 drives don't work if connected directly to the Roku TV.

To resolve this use a USB 2.0 extension cable between the drive and the TV. The cable isolates USB 3.0 pin connectors from trying to communicate with your TV. In other words, it forces your USB 3 drive to look like a USB 2 drive. The other way to accomplish this is to use a USB Hub.
Media File Type Is Not Supported
If you are trying to play some media files through the external USB drive on your Roku TV and the TV isn't displaying or playing the files, the media file type might be unsupported.
According to Roku support, acceptable media file types are:
Video: H.264/AVC (.MKV, MP4, MOV)
Audio: AAC (.MKV, .MP4, .MOV); MP3(.MP3, .MKV); WMA (.ASF, .WMA, .MKV), FLAC (.FLAC, .MKV), PCM (.WAV, .MKV, .MP4, .MOV), AC3/EAC3 (.MKV,.MP4. .MOV, .AC3), DTS (.MKV, .MP4, .MOV,.DTS), ALAC (.MKV, .MP4, .MOV, .M4A)
4K Video : H.265/HEVC (.MKV, .MP4, .MOV); VP9 (.MKV)
Playlists: M3U, .M3U8
Image : JPG, PNG, GIF (non-animated)
Many audio and video codecs are not supported by Roku. For instance .avi or DIVX/XVID files cannot be played.
Your USB Device has an Issue
Sometimes it might be the case that your Roku TV keeps playing your media files through the connected USB drive and then suddenly stops playing them.
⚠️ The TV may display the message "file not playable, and the file might be damaged or corrupt".
If that is the situation, the issue is probably in the connected USB drive itself and not the Roku TV. Try connecting another USB drive to see if the problem lies in your drive or the TV.
Here is an example of what your TV might display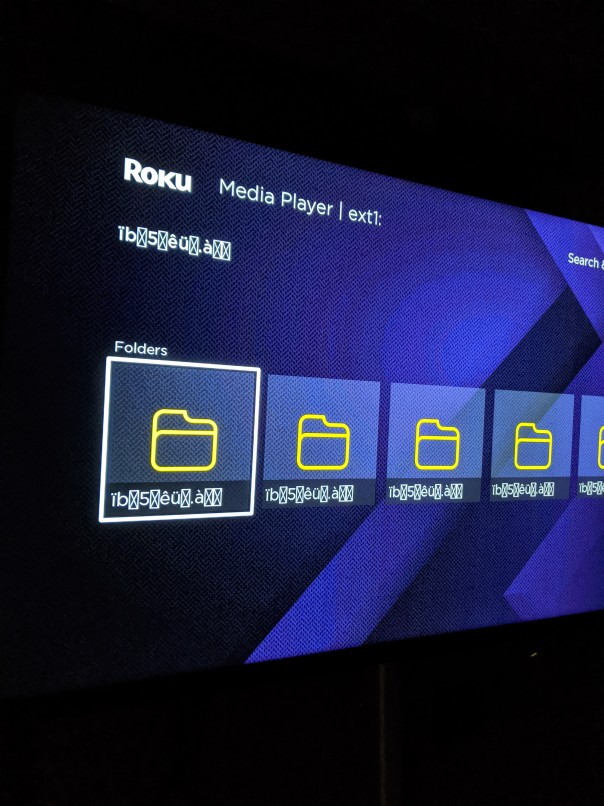 This is a sign that your USB drive has become corrupted and is on the verge of failure.
In this case, I recommend backing up your USB drive to another as there's a strong possibility of drive failure and data loss.
Other Ideas to Play External Media
Here are a few alternatives to play external media from your USB drive on your Roku TV
USB port on your router
Many routers have USB ports that can be used to connect hard drives. This is one way to share your media across your home network as well. Note that this is not as fast as NAS, but it will solve the problem.
Plex Media Server
Download and Install the Plex media server. Connect the USB drive to your computer and stream content to the Roku TV through the Plex app
A Quick Recap
If an external USB drive is not working with your Roku TV, here are possible reasons we have covered in this post.
USB drive is not getting enough power,
The file system format or the media file type is unsupported,
Drive size is too large
USB connector type is not compatible
The USB drive itself has a problem
Let us know in the comments section below if this solved your problem. Additionally we are happy to help if you have a related issue with your hard drive and Roku TV.